Preparing for an AJGA Tournament
First Day of the Tournament
Tournament Rounds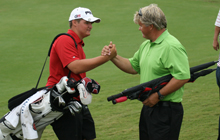 Parents play a crucial role in preparing for an AJGA tournament.
Your son or daughter has just been accepted to an AJGA tournament. What is your next step as a parent before heading to your child's tournament with your tennis shoes and sport seat in tow?

Acceptance Information
Once your child gains entry to an AJGA tournament, notification will be sent via email and text (if enabled) and a field list will also appear on the tournament website. It is advised that you and your child read all the provided information in the acceptance email thoroughly and in its entirety. The acceptance email will also provide a link to the tournament website. As you begin planning for the tournament, you will find that this information serves as a key reference guide and resource to help you plan for the event and learn more about AJGA policies and procedures.

Travel and Lodging
To ease the planning process, the tournament website provides detailed information regarding transportation and lodging. Driving directions and distances to and from the airport(s), host facility and host hotel are all listed, as well as contact information for both the host facility and hotel. It is recommended that you book hotel and flight reservations as soon as you receive your acceptance information because room blocks and discounted room rates are limited.
Schedule of Events
A tournament schedule of events will be among the information provided on the tournament website, which will list tee time blocks, Players and Parents Meetings and social activities. Before reserving transportation and lodging, please look carefully at dates and times to avoid arrival and/or departure conflicts. Also, when arranging travel plans, please allow enough time to attend all first-day events (practice round, mandatory Players Registration and Meeting and Parents Meeting).
Practice Round
Juniors, get to know the golf course as you play a practice round with some of your fellow competitors. Your tournament information will provide details as to when and where to sign up for the practice round, which is usually a shotgun start.
Junior-Ams
Depending on the type of tournament, a Junior-Am may also be conducted on the first day of the tournament. If the Junior-Am is listed in your schedule of events, and your child has been invited to play, please encourage your son or daughter to participate. If your child is interested in playing, please feel free to contact the tournament director to see there are spots available. This is an excellent opportunity for players to interact with local sponsors and supporters of the AJGA, and make potential lifetime contacts in the business world. If you are invited to play in the Junior-Am, that will serve as your practice round.
Players Registration/Meeting and Parents Meeting
Players Registration and Players Meeting will follow the practice round. At registration, players will receive pairings, tournament information and gifts. The subsequent Players Meeting will cover important information regarding the tournament and Local Rules. These events are MANDATORY. Should you be unable to attend, you must contact the tournament director in advance.


A Parents Meeting is also held, usually at the same time as the Players Meeting. Even though the Parents Meeting is not mandatory, it is highly recommended because it gives every AJGA parent an opportunity to learn more about the Association.
Getting Started
It is the player's responsibility to be at the starting tee at the designated tee time. Late arrival to the tee may result in two stroke penalty or disqualification. The AJGA recommends arriving at the tee 10 minutes prior to your tee time (15 minutes on equipment survey day). An AJGA staff member will provide scorecards, hole location sheets, Notice to Competitors and other instructions to get you started on the right foot. The starter will announce each player's name and hometown before he or she tees off.
Equipment Survey
As a service to the AJGA's sponsors, an AJGA staff member will conduct an equipment survey with each competitor on the starting tee prior to the start of the first round (the round may vary at some tournaments).
Care for the Course Program
The AJGA implements a Care for the Course program for the course policy, where juniors are provided with sand bottles and are required to fill their divots during all rounds of a tournament. Instead of one event following the second round, this is now an ongoing process in helping to maintain the courses that allow us to host a tournament. Some events will have a Care for the Course Party where juniors will fill divots on the driving range after one of the rounds.
Social Activity and Cookout
The AJGA typically hosts asocial activity, following the first or second round at each tournament. Have a good time, but keep the Code of Conduct in mind. The social activity is an excellent opportunity to interact with other players and families, staff and sponsors of the AJGA.
Some tournaments will have a cookout held in conjunction with the social activity, in which players eat complimentary while parents can eat for an additional cost. In lieu of a cookout, some tournaments will provide vouchers for players to redeem for a meal at the host facility.
Final Round
Final-round tee times, which are based on the player's two-day total, will be posted online as well as at the host hotel and facility, along with a phone number for players to call during a designated time. Players may also opt in for text messages in the Player Center to receive pairings for each round.
Awards Ceremony
Trophies are generally awarded to the top-five boys and top-three girls at each tournament. The awards ceremony will take place immediately following the conclusion of the competition. Award winners are asked to stay for photos with their trophies immediately following the ceremony.