THUNDERBIRD INTERNATIONAL JUNIOR
Grayhawk Golf Club, Raptor Course
Scottsdale, Arizona
May 25-28, 2001
WASHINGTON NATIVES TAKE TITLES AT THUNDERBIRD INTERNATIONAL
Moore fires a 68 in Boys Division, while Elston cards a 73 to take Girls Division
SCOTTSDALE, Ariz. - Ryan Moore of Puyallup, Wash., carded his third consecutive round in the 60s to take the Boys Division crown at the AJGA Thunderbird International Junior on Monday. It was a Washington sweep as Lani Elston of Spokane won the Girls Division. The pair also took their respective titles last week at the Washington State 4A High School Championships.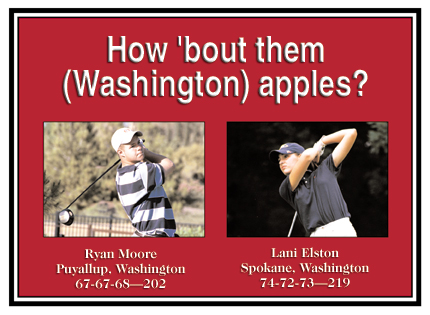 The 54-hole event, conducted by the American Junior Golf Association, was held at the Raptor Course at Grayhawk Golf Club, the home club of AJGA alum and PGA Tour standout Phil Mickelson. The second annual invitational featured 90 of the top juniors from around the world, representing 20 states and 12 countries, with 63 AJGA Polo Golf Junior All-Americans and 24 international players.
The 18-year-old Moore, who led the entire tournament, fired rounds of 67-67-68 for a total of 14-under-par 202 on the par-72, 7,103-yard layout for a three-shot victory. His biggest lead of the day came after a chip-in on No. 16 from 50 feet to go to 15-under. He followed the birdie with a bogey on No. 17, only his second of the three-round tournament.
"I didn't make any mistakes and did not have too many errant shots," the UNLV-signee said. "I controlled the ball really well. I kept it in the fairway, hit a lot of greens and made putts."
This event was Moore's second AJGA victory, his first coming in 1999 at the AJGA Boise Junior Classic. It was also his third win in row after taking the crown at the Pugent Sound Amateur and the Washington State 4A High School Championship in the two weeks prior.
"This win is huge for me," Moore said. "This is an incredible field and to win this, which is one of my last junior events, is awesome. To go out this way feels good."
Anthony Kim of La Quinta, Calif., fired a second consecutive 67 to finish three shots off the lead at 205. Chan Song Wongluekiet of Bradenton, Fla., who won the inaugural event last year, placed third at 210. Rounding out the top five were Kevin Na of Diamond Bar, Calif., at 212, and Rick Kulacz of Perth, Australia, at 215.
In the Girls Division, University of Idaho-bound Elston carded rounds of 74-72-73 for a total of 3-over-par 219 to win her first AJGA event. After double bogeys on No. 1 in the first two rounds, she parred the first hole to get the day started. After finishing the front nine at even-par, she birdied No. 10 after playing a 10-foot-break.
"I played consistent today," the 18-year-old said. "I knew where I stood most of the day. I had bogeys on No. 15 and 16, so I told myself that I needed to get back to business and play my game on No. 17. On No. 18, I knew all I had to do was two-putt, so I tried to lag it and I had a tap-in for par.
"I can't believe I won," she continued. "I am so excited to have pulled this one out."
One stroke off the pace at 220 was Aimee Cho of Orlando, Fla. Kelly Husted of Sarasota, Fla., took third with a 222 total, while Jackie Beers of Midlothian, Va., placed fourth at 223. Jessica Shepley of Oakville, Ontario, and Erica Blasberg of Corona, Calif., tied for fifth with three-day totals of 224.
SCOTTSDALE, Ariz. -- Final results from the THUNDERBIRD INTERNATIONAL JUNIOR conducted by the American Junior Golf Association at Grayhawk Golf Club, Raptor Course. Par: 36-36--72. Yardage: Boys: 7,103 Girls: 6,205
BOYS DIVISION
| | | | | | | | | |
| --- | --- | --- | --- | --- | --- | --- | --- | --- |
| Pos. | Name | Grad. Year | City | State | Rd1 | Rd2 | Rd3 | Total |
| 1 | Ryan Moore | 2001 | Puyallup | Wash. | 67 | 67 | 68 | 202 |
| 2 | Anthony Kim | 2003 | La Quinta | Calif. | 71 | 67 | 67 | 205 |
| 3 | Chan Song Wongluekiet | 2001 | Bradenton | Fla. | 69 | 71 | 70 | 210 |
| 4 | Kevin Na | 2002 | Diamond Bar | Calif. | 70 | 71 | 71 | 212 |
| 5 | Rick Kulacz | 2002 | Perth | Australia | 75 | 69 | 71 | 215 |
| 6 | Roberto Castro | 2003 | Alpharetta | Ga. | 75 | 69 | 72 | 216 |
| 7 | Henry Liaw | 2003 | Rowland Heights | Calif. | 69 | 76 | 72 | 217 |
| T8 | Grigory Bondarenko | 2001 | Moscow | Russia | 77 | 71 | 70 | 218 |
| | Jesse Mueller | 2001 | Mesa | Ariz. | 73 | 71 | 74 | 218 |
| | Matt Kern | 2001 | Castro Valley | Calif. | 75 | 70 | 73 | 218 |
| T11 | Erik Stenman | 2001 | Tampere | Finland | 73 | 75 | 72 | 220 |
| | Mark Donnell | 2001 | Mobile | Ala. | 77 | 74 | 69 | 220 |
| | Ted Smith | 2002 | Westlake | Ohio | 70 | 77 | 73 | 220 |
| | Casey Wittenberg | 2004 | Memphis | Tenn. | 70 | 77 | 73 | 220 |
| T15 | Heath West | 2001 | Dothan | Ala. | 77 | 71 | 73 | 221 |
| | Nico Bollini | 2001 | Yorba Linda | Calif. | 72 | 74 | 75 | 221 |
| | James Vargas | 2002 | Miami | Fla. | 72 | 73 | 76 | 221 |
| T18 | Reid Rader | 2003 | Kenmore | Wash. | 73 | 75 | 74 | 222 |
| | Nicholas Thompson | 2001 | Coral Springs | Fla. | 76 | 71 | 75 | 222 |
| | Matthew Rosenfeld | 2002 | Plano | Texas | 73 | 73 | 76 | 222 |
| 21 | Christo Greyling | 2001 | Orlando | Fla. | 76 | 69 | 78 | 223 |
| T22 | Kevin Silva | 2002 | New Bedford | Mass. | 74 | 74 | 76 | 224 |
| | Drew Pigg | 2002 | Plano | Texas | 76 | 74 | 74 | 224 |
| | Richard Scott | 2001 | Kingsville | Ontario | 69 | 77 | 78 | 224 |
| 25 | Joel Gibbons | 2001 | Ocala | Fla. | 74 | 78 | 73 | 225 |
| 26 | Jay Reynolds | 2001 | Austin | Texas | 70 | 75 | 81 | 226 |
| 27 | Jeff Bell | 2002 | Plano | Texas | 77 | 74 | 76 | 227 |
| 28 | John Poucher | 2001 | Santa Barbara | Calif. | 72 | 82 | 74 | 228 |
| T29 | Chris Wheeler | 2001 | Allen | Texas | 74 | 77 | 78 | 229 |
| | Tarik Can | 2004 | New York | N.Y. | 81 | 77 | 71 | 229 |
| T31 | Clay Ogden | 2003 | West Point | Utah | 74 | 75 | 81 | 230 |
| | Michio Matsumura | 2002 | Tokyo | Japan | 82 | 71 | 77 | 230 |
| | Clint Provost | 2001 | Gulf Breeze | Fla. | 77 | 77 | 76 | 230 |
| 34 | Pansing Singhaseni | 2002 | Beverly Hills | Calif. | 79 | 78 | 74 | 231 |
| T35 | John Fizer | 2001 | Trenton | N.J. | 76 | 79 | 77 | 232 |
| | Ashdon Woods | 2001 | Lander | Wyo. | 77 | 81 | 74 | 232 |
| 37 | David Huestis | 2001 | Worthington | Ohio | 84 | 74 | 75 | 233 |
| T38 | Daniel Kush | 2002 | Tustin | Calif. | 77 | 77 | 80 | 234 |
| | Brian O'Flaherty | 2001 | Westlake Village | Calif. | 81 | 79 | 74 | 234 |
| | Doug Kingston | 2001 | Bethlehem | Pa. | 81 | 80 | 73 | 234 |
| T41 | Yoshio Yamamoto | 2003 | Guadalajara | Mexico | 77 | 78 | 80 | 235 |
| | Niklas Lemke | 2003 | Linkoping | Sweden | 78 | 85 | 72 | 235 |
| 43 | Masaaki Kato | 2002 | Osaka | Japan | 76 | 88 | 78 | 242 |
| 44 | Masaki Nakanishi | 2003 | Osaka | Japan | 81 | 75 | 88 | 244 |
| T45 | Jeff Bopp | 2001 | Katy | Texas | 79 | 80 | 90 | 249 |
| | Alfonso Collada | 2005 | Mexico City | Mexico | 80 | 82 | 87 | 249 |
| 47 | Clint Cromwell | 2001 | Savannah | Tenn. | 86 | 87 | 84 | 257 |
GIRLS DIVISION
| | | | | | | | | |
| --- | --- | --- | --- | --- | --- | --- | --- | --- |
| Pos. | Name | Grad. Year | City | State | Rd1 | Rd2 | Rd3 | Total |
| 1 | Lani Elston | 2001 | Spokane | Wash. | 74 | 72 | 73 | 219 |
| 2 | Aimee Cho | 2002 | Orlando | Fla. | 71 | 76 | 73 | 220 |
| 3 | Kelly Husted | 2002 | Sarasota | Fla. | 75 | 71 | 75 | 221 |
| 4 | Jackie Beers | 2002 | Midlothian | Va. | 70 | 76 | 76 | 222 |
| T5 | Jessica Shepley | 2001 | Oakville | Ontario | 75 | 72 | 76 | 223 |
| | Erica Blasberg | 2002 | Corona | Calif. | 74 | 73 | 76 | 223 |
| T7 | Paula Creamer | 2005 | Pleasanton | Calif. | 73 | 74 | 77 | 224 |
| | Brittany Lang | 2003 | McKinney | Texas | 71 | 76 | 77 | 224 |
| T9 | Elizabeth Janangelo | 2002 | West Hartford | Conn. | 78 | 72 | 75 | 225 |
| | Jane Lee | 2004 | Torrance | Calif. | 76 | 71 | 78 | 225 |
| 11 | Mallory Code | 2003 | Tampa | Fla. | 78 | 72 | 76 | 226 |
| T12 | Whitney Welch | 2002 | Las Vegas | Nev. | 79 | 76 | 72 | 227 |
| | Ashley Knoll | 2003 | The Woodlands | Texas | 77 | 76 | 74 | 227 |
| | Maria Eugenia Martinez | 2001 | Maracaibo | Venezuela | 71 | 80 | 76 | 227 |
| 15 | Hwanhee Lee | 2001 | Cerritos | Calif. | 75 | 77 | 76 | 228 |
| T16 | Whitney Code | 2001 | Tampa | Fla. | 74 | 80 | 75 | 229 |
| | Stella Lee | 2001 | Irvine | Calif. | 81 | 72 | 76 | 229 |
| 18 | Ouliana Rotmistrova | 2001 | Moscow | Russia | 75 | 79 | 76 | 230 |
| T19 | Jennifer Karr | 2001 | Scottsdale | Ariz. | 78 | 77 | 78 | 233 |
| | Perry Swenson | 2001 | Boynton Beach | Fla. | 76 | 78 | 79 | 233 |
| T21 | Priscilla Park | 2002 | Santa Ana | Calif. | 76 | 79 | 79 | 234 |
| | Ina Kim | 2001 | Encino | Calif. | 77 | 79 | 78 | 234 |
| | Lisa Ferrero | 2001 | Lodi | Calif. | 72 | 80 | 82 | 234 |
| T24 | Devan Andersen | 2002 | Guadalajara | Mexico | 80 | 79 | 76 | 235 |
| | Lisa Tyler | 2002 | Lighthouse Point | Fla. | 75 | 75 | 85 | 235 |
| 26 | Golda Johansson | 2002 | Trelleborg | Sweden | 75 | 82 | 79 | 236 |
| T27 | Karin Sjodin | 2002 | Goteborg | Sweden | 81 | 78 | 79 | 238 |
| | Erin Andrews | 2002 | Las Vegas | Nev. | 79 | 82 | 77 | 238 |
| T29 | Whitney Wade | 2003 | Glasgow | Ky. | 84 | 75 | 80 | 239 |
| | Claire Grignolo | 2004 | Torino | Italy | 78 | 82 | 79 | 239 |
| T31 | Tullia Calzavara | 2002 | Trevijo | Italy | 81 | 79 | 80 | 240 |
| | Cindy Shin | 2003 | McKinney | Texas | 80 | 84 | 76 | 240 |
| T33 | Cristina Gonzalez | 2004 | Durango | Mexico | 79 | 78 | 86 | 243 |
| | Sofie Andersson | 2002 | Angelholm | Sweden | 81 | 79 | 83 | 243 |
| | Alissa Kuczka | 2002 | Phoenix | Ariz. | 81 | 82 | 80 | 243 |
| | Becky Berzonski | 2001 | North East | Pa. | 81 | 82 | 80 | 243 |
| T37 | Eom Ji Park | 2003 | Vancouver | British Columbia | 80 | 85 | 79 | 244 |
| | Kyla Welsh | 2001 | Wellington | New Zealand | 84 | 82 | 78 | 244 |
| 39 | Alejandra Diaz | 2003 | Guadalajara | Mexico | 82 | 83 | 81 | 246 |
| 40 | Eline Zoethout | 2002 | Blokker | The Netherlands | 86 | 81 | 83 | 250 |
| 41 | Rachel Overstreet | 2002 | Pace | Fla. | 94 | 86 | 85 | 265 |